Series with Double Door Panels
来源:The Site作者:admin 日期:2022/8/15 浏览:0
Scope of application:
large-scale laser cutting, gantry plasma cutting, flame cutting, welding, grinding and polishing, stirring, powder feeding, powder bagging, sifting, laboratory and other dusts with fixed workstations or uniform distribution of workstations and small spans In the working conditions with a large amount of smoke, it can be placed indoors or outdoors to collect and control floating, suspended dust and smoke, and it can be centralized for single-post or multi-post dust removal.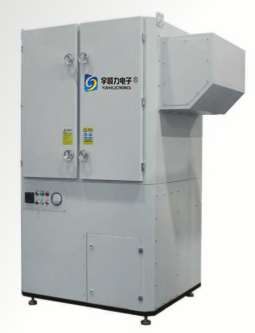 Main features:
1. Adopt Siemens centrifugal fan and modular design, with large air volume, low noise and stable performance.
2. Schneider brand electrical appliances to improve product safety and stability.
3. Equipped with 15/18 PTFE membrane filter cartridges to increase the filtration area.
4. The pulse cleaning control system can set the pulse cleaning interval according to the working conditions.
5. Siemens constant voltage control system, the machine can run at variable speed to save electricity and reduce motor maintenance costs.
6. The remote/local switch function is standard, and the local switch or the linkage switch with the equipment can be selected according to the working conditions.
7. Differential pressure gauge can check the pressure when the machine is running.
8. The filter wind speed reduction design inside the machine, dust can be formed inside the machine after dust inhalation.
9. The whole machine can be customized as explosion-proof type in special places.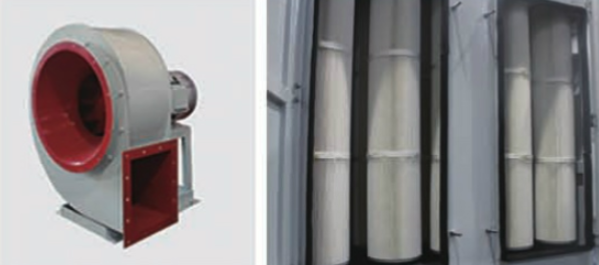 Siemens Motor Siemens Motor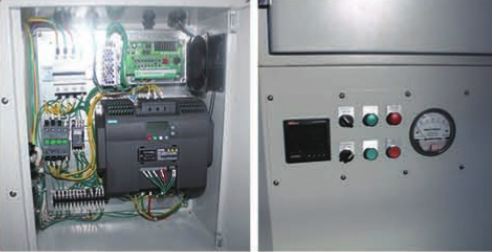 Schneider Electric Siemens frequency conversion constant pressure
controller * differential pressure gauge
| | | | |
| --- | --- | --- | --- |
| Technical Data | Unit | YSL-1100 | YSL-1500 |
| Power | Kw | 11 | 15 |
| Voltage | V-Hz | 380-50/60 | 380-50/60 |
| Container | L | 50 | 50 |
| Filter area | ㎡ | 100 | 120 |
| Filtering accuracy | μm | 0.1-0.3 | 0.1-0.3 |
| Qty of filters | PC | 15 | 18 |
| Airflow | m³/h | 6000-9000 | 7500-11500 |
| Vacuum | Kpa | 4.1-2.9 | 4.6-3.3 |
| Noise level | dB | 74 | 76 |
| Inlet diameter | mm | 300 | 400 |
| Cable length | m | 10 | 10 |
| Product size | mm | 1300*1380+470*2600 | 1430*1590+520*2600 |
| Filter cleaning method | - | Pulse cleaning | Pulse cleaning |