Scope of application:
Welding robot workstation fume control, large welding workshop fume purification, heavy machinery welding dust removal, cutting, drilling, sandblasting, powder spraying, engraving, grinding and polishing, stirring, powder feeding, powder bagging, powder screening, laboratories, etc. Conditions where the amount of dust and smoke is very large. It can be placed indoors or outdoors to collect and treat floating, suspended dust and soot, which can purify the overall soot in the workshop.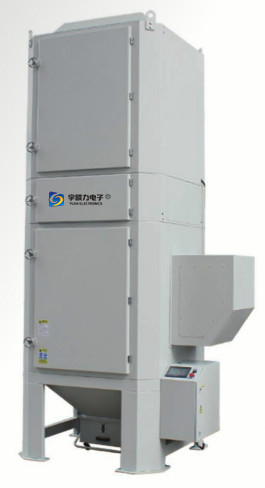 Main feature;
1. Adopt Siemens centrifugal fan and modular design, with large air volume, low noise and stable performance.
2. Schneider brand electrical appliances to improve product safety and stability.
3. Rotary backflushing and cleaning system, the interval time of backflushing and cleaning can be set according to the working conditions.
4. Increase the filter area to meet the needs of the machine working for a long time.
5. PLC intelligent module, remote control and constant voltage control module can be installed. The fan speed can be automatically adjusted according to the concentration of smoke and dust at different locations in the workshop to reduce energy consumption.
6. The whole machine can be customized as explosion-proof type in special places.
7. The filter wind speed is designed to reduce the speed inside the machine, and dust can be formed inside the machine after the dust is inhaled.
Siemens motor Cartridge filter PLC control